Sitting majestically off the Moseley Road in Balsall Heath is the former large removals warehouse for Robinsons. The building was renovated around 2001 when it was converted into residential apartments. As part of this work to improve the external aesthetics of the building  a large sign was painted on the end wall providing a lasting record marking the history of the building. 
We don't know for sure if this sign was re-painted as a copy of an earlier Robinsons sign as no photographs have been found showing this side of the building. Traces of an earlier sign are visible when you zoom into a photograph of the current sign suggesting that it may well have been re-painted.   
An old photograph shown above of the building shows that it was covered in the company's signage.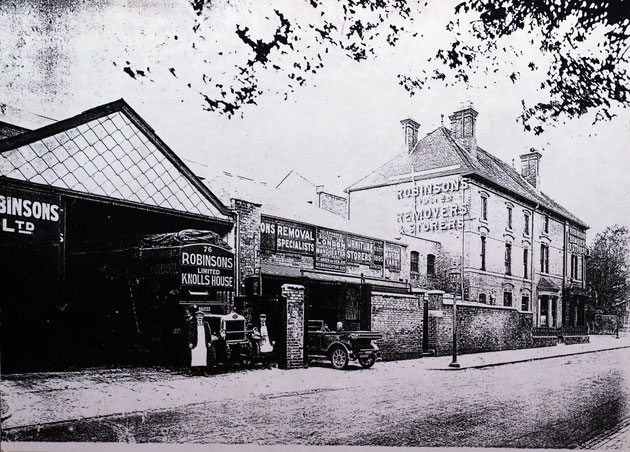 The Manchester business was founded in 1895 by Alfred Robinson he is shown in the photograph above. Originally, a coal merchant Alfred struggled to  makes his business viable with stiff competition and took this opportunity to use his assets to start his removals business.  
In the mid 1920s the business expanded and Alfred opened four branches in  Birmingham, Bristol, London and Manchester. These were run by each of his four sons. 
In 1928, the Birmingham warehouse was purpose built making use of innovations available at the time this included installation of a central vehicle lift to enable the vehicles to be taken up to the different floors to off loads their goods. 
The lift was made by a Bolton business of William Wadsworth  & Sons Ltd, Lift and Hoist Manufactures and was believed to be the first Lift of its type of in Europe. 
The Birmingham warehouse was hit by incendiary bombs during world war II but, had taken precaution to protect their buildings and clients belongings by placing 20 tons of sand in the loft. Its reported that this act saved the building as as all of the bombs that came through the roof failed to set it on fire.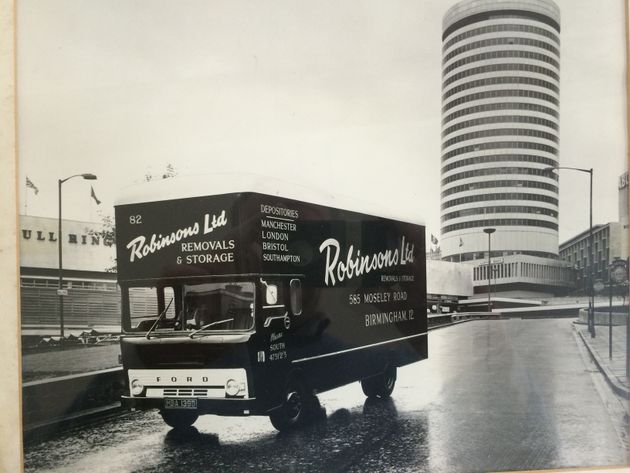 The company made use of sign-writing on its fleet of vehicles to promote the business the photograph is particular special as  its shows one of the company's removal lorries travelling past the Birmingham Rotunda and former Bull Ring. The vehicle has 585 Moseley Road painted on the side.  
Black & White photograph below shows an earlier prototype of the Robinson Removal Lorry covered in sign-writing.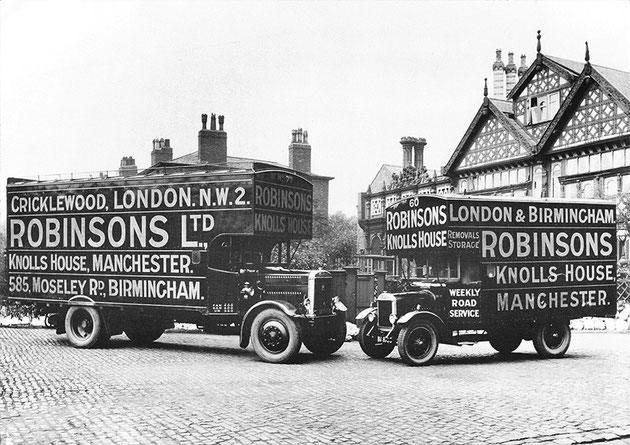 From the south Birmingham collection of ghost signs click here to see more. 
photo credit: Courtesy of Robinsons.