Beverley Hall Ltd were electroplate manufactures founded  by Fredric Beverley Hall and William Henry Johnson. In 1913 they dissolved their partnership and Fredric continued the business under the name Beverley Hall.
The former works span across numbers 14 - 16 where the building follows the curve around Regent Parade.  A Birmingham City Council planning photograph from the Library of Birmingham archives taken in 1956 providing a rare view of the building from the past. Here we can see the original hand-painted sign carrying the name of the firm and in the far right just a glimpse of another sign over the door arch can be seen.
Two other signs are are visible either side of the door  in the centre of the 1956 photograph. The wooden sign with the company's name hasn't survived but the second sign which directs people to the  office and showroom is still on the building.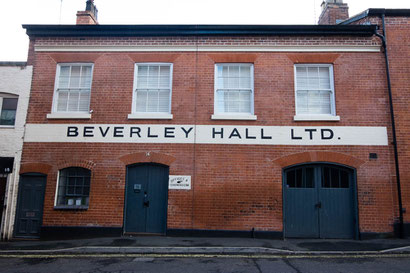 The Grade II listed group of buildings were redeveloped to provide residential accommodation by One Property Group. The properties are known today as Beverley Hall Court.  
As part of the redevelopment the original signs were re-painted by the developers. It can sometimes be an issue if the historic signs are altered from the original but in this instance we can see from earlier photographs that the signs are pretty much an exact replica of the original.   
A blog post by Vici MacDonald on Shopfront Elegy shows the signs in 2012 just prior to the redevelopment.
Photographs below show the other two signs and painted door number as they appear today on the attractive Beverly Hall Court.